New Delhi:
Durga Puja (
Pujo
in Bengali) is celebrated across India in different ways, though not at the grand scale like that of Kolkata, Delhi isn't far behind. The heat is oppressive, the crowds claustrophobic, the smells overwhelming- the city's Bengali hub Chittaranjan Park is buzzing with people and the sounds of
dhaak
.
At Cooperative ground, Durga along with her children: Karthik, Saraswati, Lakshmi and Ganesh has arrived on board a boat. The pandal is decorated with coconut shells, jute ropes, bamboo and fairy lights. The theme of the pandal inspired by Gond Art style is based of Panchabhuta, the five elements: earth, water, fire, air and ether. 'We are promoting a tribal form of art that exists in Madhya Pradesh, Andhra Pradesh, Telangana and Odisha through our Durga Puja celebrations', says Utpal Dey, President of Co-operative ground.
B-Block Puja Committee continues the amalgamation of tradition with a tinge of green. 'Our idols are made from eco-friendly clay and paints that are bio-degradable. We also practice environment friendly immersions', says Tamal Rakshit, General Secretary. The B- Block committee will not head to a river for immersion. A pond is dug out in the park where the idols will be immersed and later used as a compost site. The frame of the idols and stage is returned to the artists to be reused.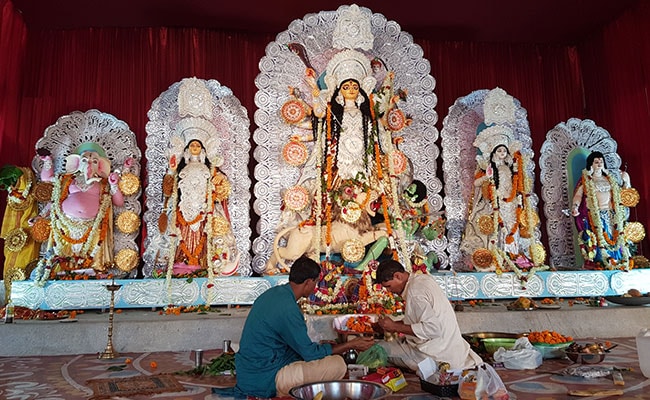 Puja celebrations are witnessing trendy and unique puja pandal themes and grand presentation of Goddess Durga. At Mela Ground, it is a confluence of cultures. Though the pandal is inspired by a traditional Bengali theme, the idols are draped in attires from the North East.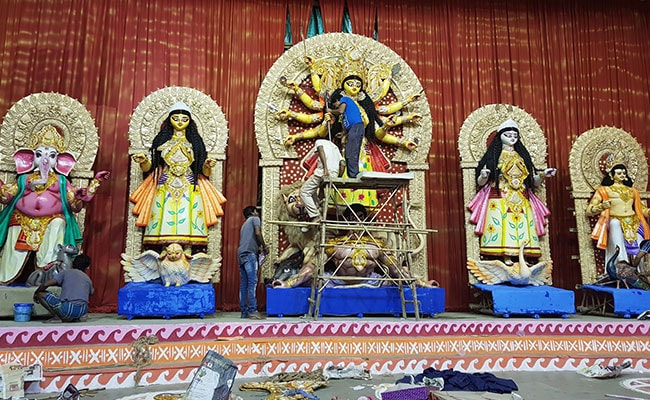 The D- Block, a rather smaller pujo nestled in narrow by-lanes is based on the Raajbaari or palace of the Zamindaar theme, similar to the ones seen in movies by Satyajit Ray and Bimal Roy. At the entrance is an old school recliner chair with a hookah and a gramophone next to it. The pandal has a palatial architecture with hanging balconies, pillars and window blinds all made of reusable thermocol and sholapit or Indian cork.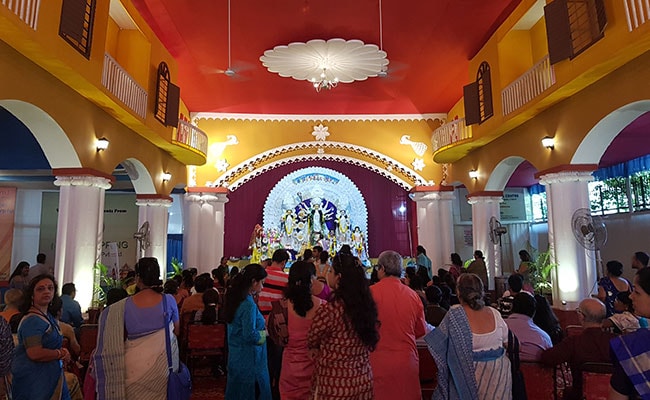 This year more than 400 pujas are likely to take place in and around Delhi between September 26 and 30.