New Delhi:
Highlights
Hate tweets posted by some on Twitter who are followed by BJP leaders
Tweets celebrated or justified murder of journalist Gauri Lankesh
PM does not block or unfollow anyone, says BJP statement
Prime Minister Narendra Modi "has never blocked or unfollowed anyone on Twitter" and his following someone is "not a character certificate", his party said today after accounts followed by Mr Modi posted vicious and abusive messages celebrating or justifying the murder of journalist Gauri Lankesh.
Since yesterday, a section of social media has outraged over those tweets and the fact that they did not result in the PM unfollowing the people who posted them. #BlockNarendraModi was a trending topic on twitter today. The PM's tracking of certain accounts "is not in any way a guarantee of how a person would conduct himself", the BJP's IT cell said in a statement today. The party also said that Mr Modi has not unfollowed either Delhi Chief Minister Arvind Kejriwal despite his abusive comments about the premier or Rahul Gandhi despite his being accused of a corruption scam.
Ms Lankesh, a fierce advocate of secularism and a frequent critic of right-wing ideology was shot dead at her home in Bengaluru on Tuesday night. Hours after her death, some Twitter users claiming close ties to BJP leaders made offensive remarks about her shooting.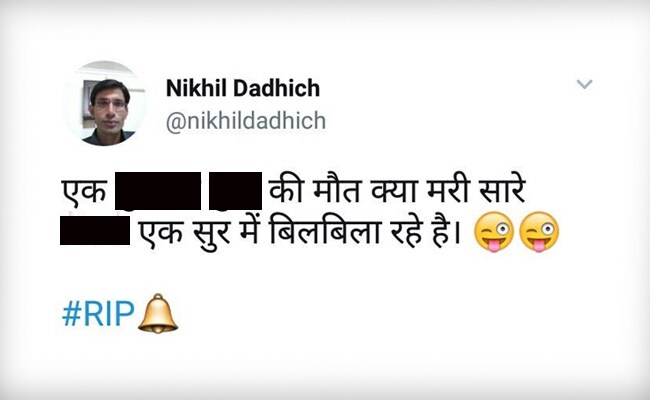 Nikhil Dadich (@nikhildadhich), who is still followed by the PM, used cuss words in reference to her – the post was later deleted. Ashish Mishra (@aashish81us), who was followed by IT Minister Ravi Shankar Prasad, tweeted that Ms Lankesh deserved to die.
The minister last night described the posts as "deplorable" and said "I strongly condemn them." He no longer follows Mr Mishra.